McFadyen Drain Green Infrastructure Case Study
Posted: Monday, February 28, 2022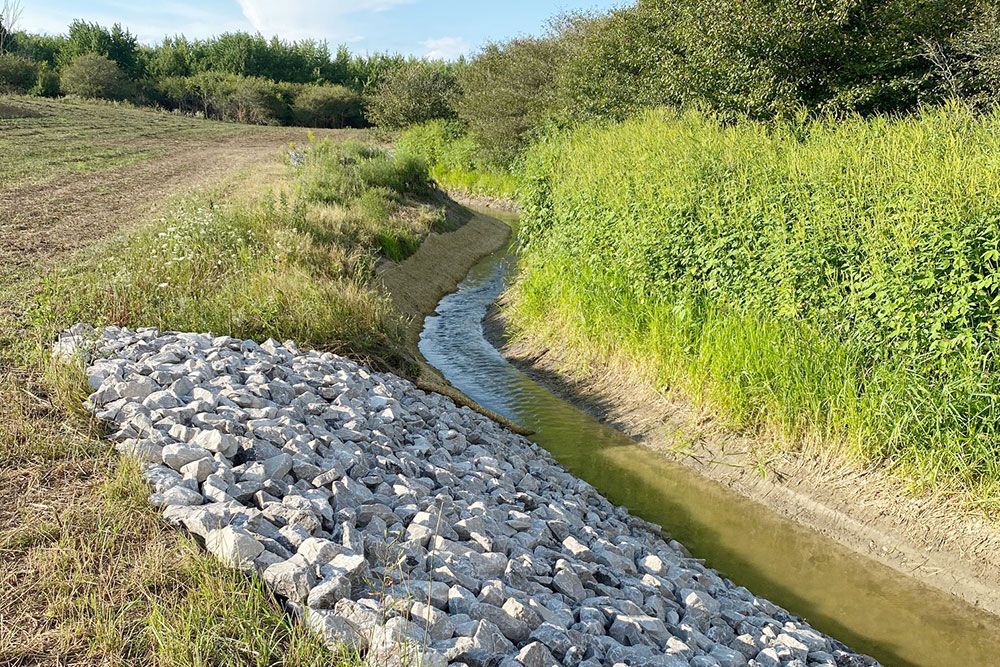 New case study looks at on-farm green infrastructure to reduce sediment in McFadyen municipal drain
A new Green Infrastructure case study, by Kelli Smith, Watershed Biologist with St. Clair Conservation, looks at on-farm green infrastructure to reduce sediment accumulation in McFadyen Drain, a municipal drain in the Township of Enniskillen, Ontario, near Tile Yard Road and Oil Springs Line.
Read the case study now:
Affected landowners requested repair on the drain to deal with issues such as fast-moving water.
Fast-moving water downstream of Tile Yard Road was causing erosion and washouts of the natural meanders in the channel and exposing subsurface tile drains.
Erosion protection in the form of rip rap and erosion control matting was recommended to support the meanders of the drain.
A sediment trap complete with rock check dam was designed and installed to slow the water from upstream of Tile Yard Road as added protection for the meanders.
Rock chutes along the low surface runs were installed to slow the water moving overland and allow for sediment to settle out before entering the drain.
David Moores is Drainage Superintendent with the Township of Enniskillen.
"As a Drainage Superintendent I stand behind green infrastructure in municipal drains and always added different features to my projects such as erosion control matting, rock chutes, and erosion control structures," he said. "My main goal is to provide better drainage with less erosion for the farmers of Lambton County."
Mr. Moores had the following to say about this project:
"Implementing a sediment trap with a rock check dam in this situation has completely stopped the erosion downstream through the farmer's property and has allowed the natural meanders to remain in place," he said.
This is one of two Green Infrastructure case studies posted, in February 2022, on the Healthy Lake Huron (HLH) – Clean Water, Clean Beaches website.
The project was supported by Ontario Ministry of Agriculture, Food and Rural Affairs (OMAFRA).
Video on Incorporating Green Infrastructure into Municipal Drainage Systems
This video, from the Township of Lucan Biddulph and St. Clair Conservation and Upper Thames River Conservation Authority, is called Incorporating Green Infrastructure into Municipal Drainage Systems:
Thanks go to landowners in the Blake Drain Watershed.
The Blake Municipal Drain is part of the Thames River drainage system. It outlets into Medway creek near Elginfield north of London. The Blake drain was constructed in 1982 and drains about 755 acres of rolling farm land.

As part of a recent municipal upgrade, new features were incorporated into the drainage works. The combination of the features are referred to as Green Infrastructure.
Partners included: Township of Lucan Biddulph; landowners in the Blake Drain watershed, St. Clair Region Conservation Authority (SCRCA); Upper Thames River Conservation Authority (UTRCA); Spriet Associates; and AG Hayter Contracting Ltd.