Cover Crops in Sixty Inch Corn Update
Posted: Friday, July 3, 2020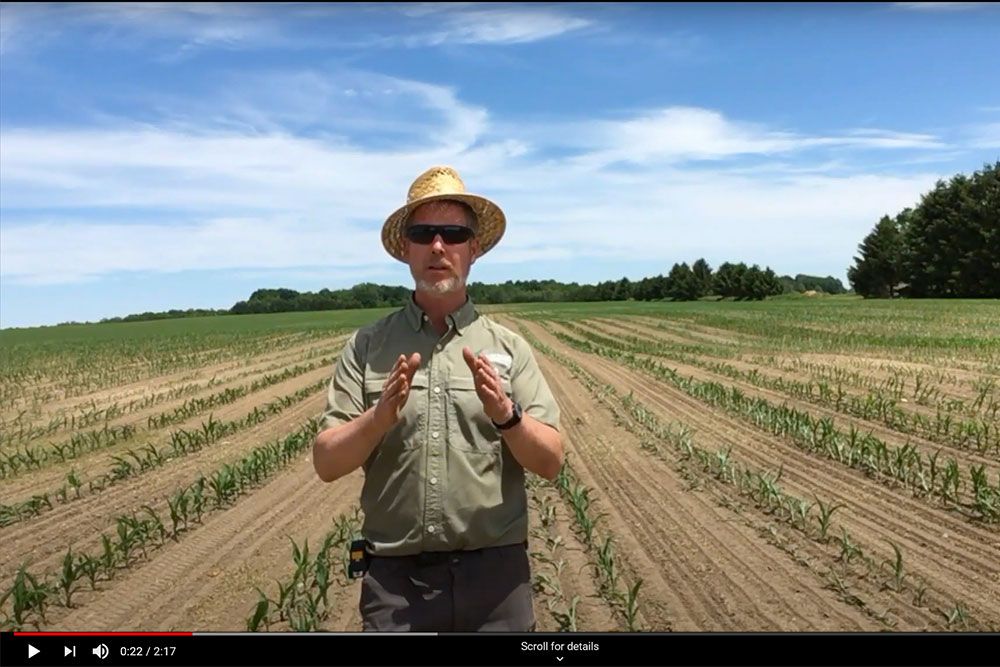 Video provides update on Cover Crops in Sixty Inch Corn
Certified Crop Advisor (CCA) and Professional Agrologist (P.Ag) Ross Wilson, of Ausable Bayfield Conservation, provides a June 2020 update, in a new video, on the work to use #covercrops after corn and #60inchcorn in this trial south of Clinton, Ontario, Canada.
This is the second in a series of videos about the progress of this project.
Watch the video now on the Healthy Lake Huron home page.
You may watch the video now here:
You may also watch the previous video, on triumphs and challenges, here:
Ausable Bayfield Conservation improving cover crops with 60-inch corn
Ausable Bayfield Conservation is working with agricultural producer Bill Gibson, and family, and other partners on a field site to demonstrate successfully establish cover crops using 60-inch corn rows.
Thanks, on this project, go to Bill Gibson and Family; Hensall Co-op; Pioneer Feeds and Corteva Agriscience; Claussen Farms; and the Fred A. and Barbara M. Erb Family Foundation; among others.
A series of videos is being prepared and shared, with updates about the project's progress. The videos feature Ross Wilson, Water and Soils Resources Coordinator with Ausable Bayfield Conservation Authority (ABCA).
Thanks go to Bensound.com for use of the music ('Sunny') in the videos.
Stay tuned for more updates over the season!
#healthylakehuron #landtolake #pieceofthepuzzle
This Cover Crops (#covercrops) in Sixty Inches of Corn (#60inchcorn) research project observes the effect of different cover cropping strategies within a 60-inch twin-row corn scenario.
Variables include population size (70,000 versus 48,000).
Another variable is the effect of different cover crop mixes. For example ... tailored either to the corn crop (mostly legume, especially early maturing); or the subsequent bean crop (mostly Italian ryegrass with some clovers and a little brassica and radish).
Other variables are cover crop seeding rate (30 pounds per acre versus 60 pounds per acre); and effect of pruning corn after maturity to enhance cover crop biomass production, in the 30-inch-row scenario.
Ausable Bayfield Conservation is working with the participating landowner and with agricultural industry partners to monitor.
The project partners will be monitoring 2020 corn yield; 2020 cover crop biomass production; autumn 2020 soil health indicators; 2021 bean yield; and autumn 2021 soil health indicators.
Strips are 60-feet wide to accommodate three passes of eight row planters and four passes of 15-foot drill. Strips about 700 feet long equate to about one acre in size.
(A football field is about 1.32 acres in size. An acre is more than 4,000 square metres.)
Wilson flags out strips after a second cultivator pass.
The 60-inch corn twin rows are planted by the two-pass, every-other-row method, offset by seven inches.
Cover crop mixes are drilled into the corn at the 'V4' stage.
There is a common fertility program for all strips.
The project uses GPS (Global Positioning Systems) to locate strip boundaries for furture reference.
The damage to corn is minimized, when planting the cover crop, by splitting twin rows with drill-seed openers.
To find out more about the Cover Crops in Sixty Inches of Corn Project visit abca.ca.