Enjoy 360-degree tour of Scott Demo Project
Posted: Thursday, July 30, 2020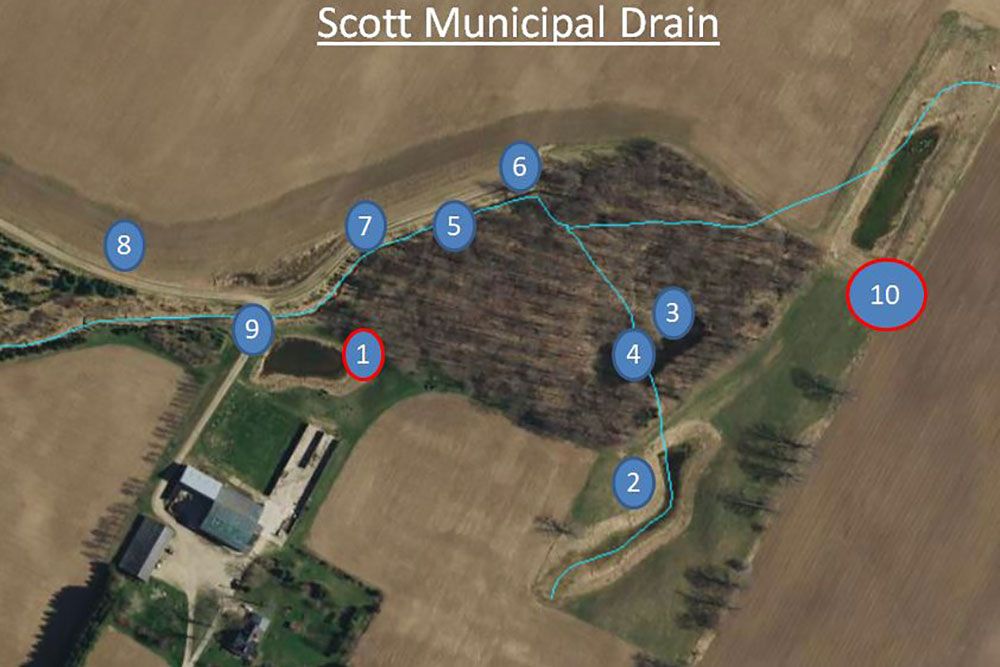 There are fewer in-person tours these days but here is a chance to tour the fascinating Scott Demonstration Project, virtually, in full 360 degrees!
Take the 360° tour now:
The still image on this web page shows the stops along the tour.
(If the 360° tour is not working on your browser, try the link on a Google Chrome browser).
The Scott Municipal Drain is a coldwater tributary of the Belgrave Creek that flows into the Maitland River.
This drain once contained a healthy trout population and provided critical spawning habitat for salmonids, but sedimentation from upstream negatively impacted this channel.
The Maitland Valley Conservation Authority (MVCA) worked with landowners in the Scott Drain watershed to restore this important tributary. Improvements to the channel conditions and habitat within the Scott Drain have increased the productive capacity for migratory trout that support the recreational fishery within the Maitland River and ultimately Lake Huron.
Join us on a virtual tour of the Scott Municipal Drain.
The virtual tour showcases a system of wetlands, grassed waterways, erosion control berms, windbreaks, watercourse buffering, diversion berms and natural channel design.
Many of these features were incorporated into the Municipal Drain Report, providing legislative protection and support for future years.
Enjoy the tour!